WHAT: NHL 16 Charity Tournament
WHEN: Saturday April 9th. Registration at 10:00, tournament starts at 11 a.m. sharp
WHERE: The Denizen Hall (10311 103 Ave, Edmonton)
WHY: To be named Edmonton's best NHL16 player and win 1st place package provided by The Brick
HOW: UPDATE: SOLD OUT in an hour!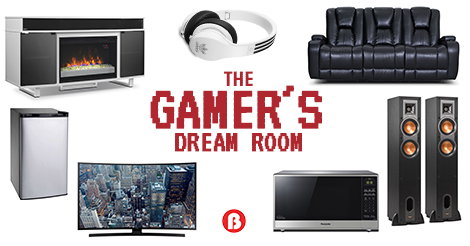 GAME DAY NOTES
Please arrive 45 minutes before your first game so we can register players. For your 2nd and 3rd game be there 10 minutes prior. You will be given a two-minute grace period. If you are not at your TV by that time you will forfeit your game by a score of 10-0. (No exceptions).
Each game will involve the same two teams; The Washington Capitals and Los Angeles Kings.
In the groups of four. Players 1 and 3 will be Washington and home team in game one and Los Angeles and road team in game two.
Players 2 and 4 will be Los Angeles and road team in game one and Washington and home team in game team.
The third game will be a coin flip. Winner gets to pick either to be La/Wash or be home or away.
In the round of 64 the highest seed will pick to be either La/Wash or home or away (top or bottom of screen.)
Good luck. See you on the 9th.

THE DRAW and SCHEDULE
| | | | | | | |
| --- | --- | --- | --- | --- | --- | --- |
| #1 | | TV | | TV | | TV |
| Alyssa Kalyn | 11 a.m. | 1 | 12:40 | 1 | 2:20 | 1 |
| Jamie Dong | 11 a.m. | 1 | 12:40 | 2 | 2:20 | 2 |
| Kevin Hamilton | 11 a.m. | 2 | 12:40 | 2 | 2:20 | 1 |
| Tyson Gresiuk | 11 a.m. | 2 | 12:40 | 1 | 2:20 | 2 |
| | | | | | | |
| #2 | | TV | | TV | | TV |
| Corey Ricke | 11 | 3 | 12:40 | 3 | 2:20 | 3 |
| Josh Gladu | 11 | 3 | 12:40 | 4 | 2:20 | 4 |
| Chad Zowtuk | 11 | 4 | 12:40 | 4 | 2:20 | 3 |
| Tyler Kapty | 11 | 4 | 12:40 | 3 | 2:20 | 4 |
| | | | | | | |
| #3 | | TV | | TV | | TV |
| Trevor Mahl | 11 | 5 | 12:40 | 5 | 2:20 | 5 |
| Hafeez Gowa | 11 | 5 | 12:40 | 6 | 2:20 | 6 |
| Thomas Nguyen | 11 | 6 | 12:40 | 6 | 2:20 | 5 |
| Colin Plomp | 11 | 6 | 12:40 | 5 | 2:20 | 6 |
| | | | | | | |
| #4 | | TV | | TV | | TV |
| Josh Post | 11 | 7 | 12:40 | 7 | 2:20 | 7 |
| Justin Delhon | 11 | 7 | 12:40 | 8 | 2:20 | 8 |
| Jahnoel Sanders | 11 | 8 | 12:40 | 8 | 2:20 | 7 |
| Kevin Gray | 11 | 8 | 12:40 | 7 | 2:20 | 8 |
| | | | | | | |
| #5 | | TV | | TV | | TV |
| Damien Austin | 11 | 9 | 12:40 | 9 | 2:20 | 9 |
| Kabir Sukhroni | 11 | 9 | 12:40 | 10 | 2:20 | 10 |
| Tim Kucherawy | 11 | 10 | 12:40 | 10 | 2:20 | 9 |
| Jay Raghavji | 11 | 10 | 12:40 | 9 | 2:20 | 10 |
| | | | | | | |
| #6 | | TV | | TV | | TV |
| Brett Kalynchuk | 11:20 | 1 | 1:00 | 1 | 2:40 | 1 |
| Dermott Keith-Millin | 11:20 | 1 | 1:00 | 2 | 2:40 | 2 |
| Tanner Piche | 11:20 | 2 | 1:00 | 2 | 2:40 | 1 |
| Ryan Brown | 11:20 | 2 | 1:00 | 1 | 2:40 | 2 |
| | | | | | | |
| #7 | | TV | | TV | | TV |
| Anthony McLeod | 11:20 | 3 | 1:00 | 3 | 2:40 | 3 |
| Brandon Baker | 11:20 | 3 | 1:00 | 4 | 2:40 | 4 |
| Ben Jackman | 11:20 | 4 | 1:00 | 4 | 2:40 | 3 |
| Matt Jones | 11:20 | 4 | 1:00 | 3 | 2:40 | 4 |
| | | | | | | |
| #8 | | TV | | TV | | TV |
| Justin Leszczak-Kuhn | 11:20 | 5 | 1:00 | 5 | 2:40 | 5 |
| Dominic Ho | 11:20 | 5 | 1:00 | 6 | 2:40 | 6 |
| Jesse Young | 11:20 | 6 | 1:00 | 6 | 2:40 | 5 |
| Jagger Zayak | 11:20 | 6 | 1:00 | 5 | 2:40 | 6 |
| | | | | | | |
| #9 | | TV | | TV | | TV |
| Adam Scanlon | 11:20 | 7 | 1:00 | 7 | 2:40 | 7 |
| James Wright | 11:20 | 7 | 1:00 | 8 | 2:40 | 8 |
| John McGrath | 11:20 | 8 | 1:00 | 8 | 2:40 | 7 |
| Jay Pinchuk | 11:20 | 8 | 1:00 | 7 | 2:40 | 8 |
| | | | | | | |
| #10 | | TV | | TV | | TV |
| Joel Santerre | 11:20 | 9 | 1:00 | 9 | 2:40 | 9 |
| Tony Brar | 11:20 | 9 | 1:00 | 10 | 2:40 | 10 |
| Marc Majeau | 11:20 | 10 | 1:00 | 10 | 2:40 | 9 |
| Dylan Brown | 11:20 | 10 | 1:00 | 9 | 2:40 | 10 |
| | | | | | | |
| #11 | | TV | | TV | | TV |
| Mike Willoughby | 11:40 | 1 | 1:20 | 1 | 3:00 | 1 |
| Alfred Ly | 11:40 | 1 | 1:20 | 2 | 3:00 | 2 |
| Chris Keeler | 11:40 | 2 | 1:20 | 2 | 3:00 | 1 |
| Jonah Kok | 11:40 | 2 | 1:20 | 1 | 3:00 | 2 |
| | | | | | | |
| #12 | | TV | | TV | | TV |
| Billy Gorn | 11:40 | 3 | 1:20 | 3 | 3:00 | 3 |
| Chae McCann | 11:40 | 3 | 1:20 | 4 | 3:00 | 4 |
| Nathan Stack | 11:40 | 4 | 1:20 | 4 | 3:00 | 3 |
| Jay Wulchuk | 11:40 | 4 | 1:20 | 3 | 3:00 | 4 |
| | | | | | | |
| #13 | | TV | | TV | | TV |
| Graeme Moxner | 11:40 | 5 | 1:20 | 5 | 3:00 | 5 |
| Robert Schaeffer | 11:40 | 5 | 1:20 | 6 | 3:00 | 6 |
| Adam Mandryk | 11:40 | 6 | 1:20 | 6 | 3:00 | 5 |
| Travis McCurdy | 11:40 | 6 | 1:20 | 5 | 3:00 | 6 |
| | | | | | | |
| #14 | | TV | | TV | | TV |
| Evan Warawa | 11:40 | 7 | 1:20 | 7 | 3:00 | 7 |
| Wes Oomen | 11:40 | 7 | 1:20 | 8 | 3:00 | 8 |
| Joe Falvo | 11:40 | 8 | 1:20 | 8 | 3:00 | 7 |
| Regan Billingsley | 11:40 | 8 | 1:20 | 7 | 3:00 | 8 |
| | | | | | | |
| #15 | | TV | | TV | | TV |
| Jerry Southorn | 11:40 | 9 | 1:20 | 9 | 3:00 | 9 |
| Daniel Boire | 11:40 | 9 | 1:20 | 10 | 3:00 | 10 |
| Jayson Shermack | 11:40 | 10 | 1:20 | 10 | 3:00 | 9 |
| Kyle Burrows | 11:40 | 10 | 1:20 | 9 | 3:00 | 10 |
| | | | | | | |
| #16 | | TV | | TV | | TV |
| Steve Deleeuw | 12:00 | 1 | 1:40 | 1 | 3:20 | 1 |
| Chris Broski | 12:00 | 1 | 1:40 | 2 | 3:20 | 2 |
| Scott Fylyshtan | 12:00 | 2 | 1:40 | 2 | 3:20 | 1 |
| Joshua Rantucci | 12:00 | 2 | 1:40 | 1 | 3:20 | 2 |
| | | | | | | |
| #17 | | TV | | TV | | TV |
| Ryan Tagalog | 12:00 | 3 | 1:40 | 3 | 3:20 | 3 |
| Skott Gervais | 12:00 | 3 | 1:40 | 4 | 3:20 | 4 |
| Gord Maidment | 12:00 | 4 | 1:40 | 4 | 3:20 | 3 |
| Jordan Sieker | 12:00 | 4 | 1:40 | 3 | 3:20 | 4 |
| | | | | | | |
| #18 | | TV | | TV | | TV |
| Tyler Day | 12:00 | 5 | 1:40 | 5 | 3:20 | 5 |
| Brian McEleney | 12:00 | 5 | 1:40 | 6 | 3:20 | 6 |
| Camerson Fraser | 12:00 | 6 | 1:40 | 6 | 3:20 | 5 |
| Morgan Brindza | 12:00 | 6 | 1:40 | 5 | 3:20 | 6 |
| | | | | | | |
| #19 | | TV | | TV | | TV |
| Kurtis Panchuk | 12:00 | 7 | 1:40 | 7 | 3:20 | 7 |
| Kevin Willis | 12:00 | 7 | 1:40 | 8 | 3:20 | 8 |
| Ryan Gilbert | 12:00 | 8 | 1:40 | 8 | 3:20 | 7 |
| Justin Salame | 12:00 | 8 | 1:40 | 7 | 3:20 | 8 |
| | | | | | | |
| #20 | | TV | | TV | | TV |
| Shen Liew | 12:00 | 9 | 1:40 | 9 | 3:20 | 9 |
| Harmen Lally | 12:00 | 9 | 1:40 | 10 | 3:20 | 10 |
| Sean Panganiban | 12:00 | 10 | 1:40 | 10 | 3:20 | 9 |
| Max Usher | 12:00 | 10 | 1:40 | 9 | 3:20 | 10 |
| | | | | | | |
| #21 | | TV | | TV | | TV |
| Rahul Deol | 12:20 | 1 | 2:00 | 1 | 3:40 | 1 |
| Jefferey Lapes | 12:20 | 1 | 2:00 | 2 | 3:40 | 2 |
| Rylande Bullock | 12:20 | 2 | 2:00 | 2 | 3:40 | 1 |
| Cole Ewasiuk | 12:20 | 2 | 2:00 | 1 | 3:40 | 2 |
| | | | | | | |
| #22 | | TV | | TV | | TV |
| Darren Lavery | 12:20 | 3 | 2:00 | 3 | 3:40 | 3 |
| Jamie Cameron | 12:20 | 3 | 2:00 | 4 | 3:40 | 4 |
| Ian Moxley | 12:20 | 4 | 2:00 | 4 | 3:40 | 3 |
| Nolan Reinhart | 12:20 | 4 | 2:00 | 3 | 3:40 | 4 |
| | | | | | | |
| #23 | | TV | | TV | | TV |
| Ryan Laird | 12:20 | 5 | 2:00 | 5 | 3:40 | 5 |
| Warren Barris | 12:20 | 5 | 2:00 | 6 | 3:40 | 6 |
| Tej Deol | 12:20 | 6 | 2:00 | 6 | 3:40 | 5 |
| Riley Phillips | 12:20 | 6 | 2:00 | 5 | 3:40 | 6 |
| | | | | | | |
| #24 | | TV | | TV | | TV |
| Gurjit Sandhu | 12:20 | 7 | 2:00 | 7 | 3:40 | 7 |
| Daniel Mulek | 12:20 | 7 | 2:00 | 8 | 3:40 | 8 |
| Justin Nieman | 12:20 | 8 | 2:00 | 8 | 3:40 | 7 |
| Derek Krasowski | 12:20 | 8 | 2:00 | 7 | 3:40 | 8 |
| | | | | | | |
| #25 | | TV | | TV | | TV |
| Mitchell Walters | 12:20 | 9 | 2:00 | 9 | 3:40 | 9 |
| Adam Lindi | 12:20 | 9 | 2:00 | 10 | 3:40 | 10 |
| Tom Brennan | 12:20 | 10 | 2:00 | 10 | 3:40 | 9 |
| Zachary Reid | 12:20 | 10 | 2:00 | 9 | 3:40 | 10 |