You can bid daily
by listening to TSN 1260 and

calling 780.444.1260
or
TEXT 101260
between 2-6 p.m.
Monday, December 21st
🎁 Package #1: One Week Cabin rental at Salmon Arm
Located 20 mins out of Salmon Arm near Herald Provincial Park.
Two bedroom lakeside cabin (queen bed in one bedroom & combo queen-single bunk in the other). And the main room has a pull out couch.
Ideally, two couples or a family of five or six with young kids.
Cabin is fully furnished (TV, wifi, fridge, stove, microwave, bedding, towels, BBQ and a guest dock and mooring buoy.
Private beach
Tennis/pickle ball court
Basketball hoop
This is located on Kevin Lowe and Karen Percy-Lowe's property. The Hall of Fame NHLer player and the two-time Olympic medalist in alpine skiing will host you for dinner and drinks one evening. The rental is for a week in July or August on a date mutually agreed upon.
🎁 Package #2: A Custom Made Ultra Book Laptop from Oil Country Computers
Lenovo Thinkpad X1 Carbon 14″ Ultrabook Laptop
Intel Core i5 processor
8GB RAM
256 GB SSD and a three-year warranty
High resolution Full HD IPS display
Windows 10 Pro
Spill resistant keyboard
18.3 hours of battery life
Carbon Fiber case make is one of the lightest, thinnest and strongest on the market at 1Kg.
Initial setup
Microsoft 365 Personal
Premium Office apps
12-Month Subscription, 1 User – PC
Wireless mouse and Laptop Bag.
Packages will support the Christmas Bureau
Tuesday, December 22nd
🎁 A furnace or AC Unit from Legacy Heating and Cooling
Legacy will supply and install your furnace or AC unit. Here is what you get with the furnace:
One installed Coleman CP9C 97.5%+ Energy Star High Efficiency Modulating Variable-Speed ECM Gas Furnace
Comes with permit and inspection fees
Ecobee 5 Thermostat or Nest Thermostat
Furnace and Duct Cleaning Package
Removal and disposal of old furnace
10 year Parts/Labour – Lifetime Heat Exchanger on Furnace
Here is what you get with the AC Unit
One installed Goodman GSX16 16 Seer Air Conditioner /w Evaporator coil, pad/bracket, electrical
Comes with permit and inspection fees
Ecobee 5 Thermostat or Nest Thermostat
UV Light Coil Purifier
10 year Parts/Labour/Compressor on Air Conditioner
Packages will support the MS Society
Wednesday, December 23rd
🎁 Package #1: Career Transition Package courtesy of Pathfind
Expert Career Planning
Two (2) hours of one-on-one coaching with an assigned certified Career Coach (either in office or remotely) tailored to the needs of the individual participant based on his/her completion of a Transition Needs Assessment. These meetings may include resume review, interview preparation, social media presence, LinkedIn profile creation etc.
Powerful and Professional Resume
Your Career Coach will help you identify your marketplace skills and your personal brand advantage. Within a few days, you will jointly develop a high-impact resume. After a stringent quality review, you will have a resume that is a commanding personal advertisement that attracts employers' attention.
High Performance Leadership Coaching
Five (5) hours of one-on-one leadership coaching with a certified Executive Coach. Through dedicated time with your Executive Coach you will take important steps towards increasing your effectiveness and impact, achieving rapid success with improved confidence, and creating sustainable personal growth developments.
After this specialized 3-step career transition program you will be highly marketable, more effective for your new team, and well-prepared for that next incredible career opportunity!
🎁 Package #2: A Shakti Necklace and Book signed by Glori Meldrum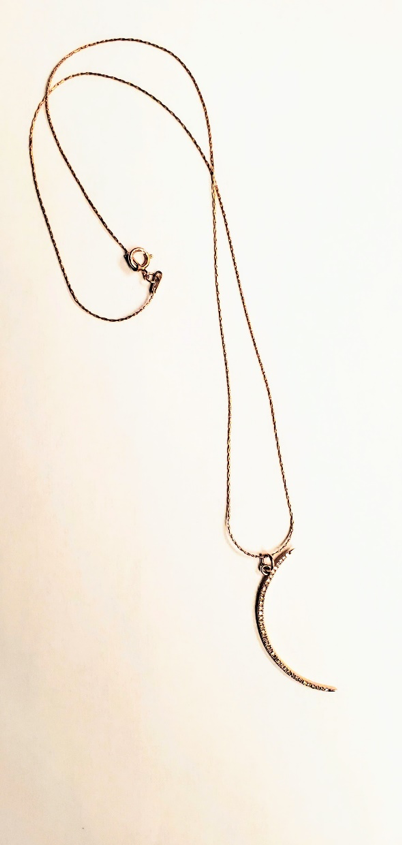 It is a 14K rose gold and pave diamonds necklace.
THE CRESCENT MOON is a symbol for growth, manifestation and transformation, wear the crescent moon to root you into a change in a way of thinking and/or action. The Crescent moon represents our intuition. Trust your intuition and wear the crescent moon to support you on new beginnings and making your dreams a reality. Go inside. Heal. Let go. Make way for all the good things coming.
And a signed copy of Meldrum's book Warrior.
Packages will support Little Warriors.

You can bid daily
by listening to TSN 1260 and

calling 780.444.1260
or
TEXT 101260
between 2-6 p.m.